SERVICES
Dry-cleaning is a process of cleaning clothes with a fluid that contains little or no water.  Our modern dry cleaning machines are self-enclosed and constantly filter to provide an environmentally safe solution. In addition to providing superior cleaning while still being gentle on your clothes.  Dry Cleaning helps to remove those 'invisible stains' that, if left untreated, will damage fibers causing irreversible damage to your clothes.
Regular visits to your dry cleaner's can remove spots and stains that would otherwise become permanent with age. We understand that you have invested a lot into your wardrobe. As a result, we choose the process that is best suited to the nature and conditions of each individual garment in order to ensure your total satisfaction.
Commercial Laundry Services
Industrial Rentals
Coverall
Shirts
Pants
Mats
Leather & Suede
Feather Pillows Cleaned
Alterations and Repairs
Modern Shirt Services
Wedding Dresses
Drapes
Comforters
Linens
Wet Cleaning

WET CLEANING
Wet cleaning (green cleansing) is a method in garment cleaning, utilizing a gentle washing machine, biodegradable soaps and conditioners, and various types of pressing and re-shaping equipment that may be specialized for many different fabric and fiber types.
According to the Environmental Protection Agency (EPA), wet cleaning is the safest professional method of garment cleaning. It does not use hazardous chemicals, it does not generate hazardous waste, nor does the process create air pollution and it reduces the potential for water and soil contamination. The specialized detergents and conditioner used in the wet clean process are milder than home laundry products. All of the products are disposed of down the drain and easily handled by the local waste water treatment facility
A major segment of our business is industrial uniform and coverall rentals. We are supplied by VF Imagewear (RedKap). Services generally involve a weekly stop to exchange uniforms or coveralls. We can supply car dealer attire as well!
Our shirts and pants are primarily 35%cotton and 65% polyester we also have action back coveralls or shopcoats of the same build.
To compliment the uniform rental we also rent floor mats that we exchange weekly or bi-weekly depending on the desires of our customer. We rent classic mats and anti fatigue mats for people to use when standing in the same position for long periods of time.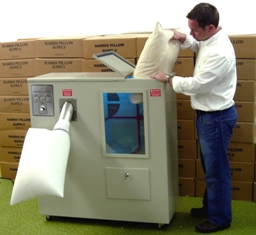 PILLOW TICKING
Roops Cleaners offers everything you need to renovate pillows, including their Pillow -Vac machine. Pillow ticking is the fabric which is used to make the bag that holds the filling for a pillow. All the ticking Roops Cleaners sells is first quality, 100% cotton feather and down proof ticking. We offer 200-thread count for most pillow renovation supplies, but have 200 and 230-thread count, 100% cotton, ticking available for new pillows. All our ticking is sewn 10-12 stitches per inch to be certain feathers don't leak through the seams.